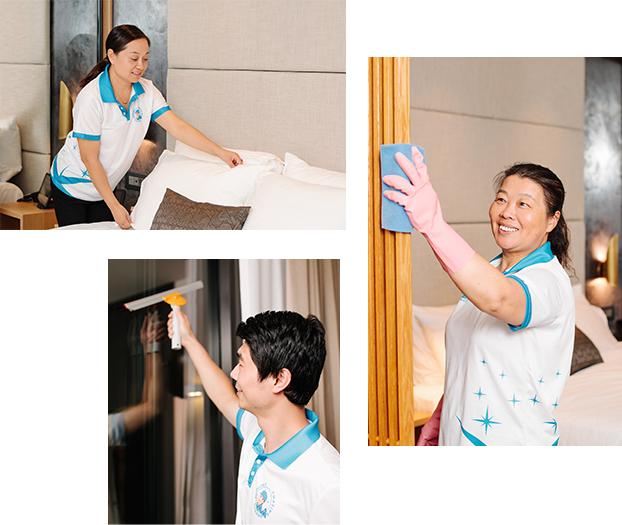 Welcome to Absolutely Amazing Cleaning
Absolutely Amazing Cleaning is Sydney's leading cleaning company providing high quality standard to end-of-lease cleaning and office/commercial cleanings at affordable price. We are confident that you will find that our cleaning service as one of the best in the market with 100% Satisfactory Guarantee.
Our Cleaning Services
The mission of our company is to provide all customers with the best quality of cleaning services for residential and commercial requests. We provide cleaning services in Sydney's North Shore & northern suburbs and are committed to make life easier for you.
Absolutely Amazing Cleaners will provide all the basics you would expect, plus those cleaning "extras" and special touches that are difficult to find elsewhere.
Who We are
Our Promises
The mission of our company is to provide all customers with the best quality of cleaning services for residential and commercial requests. Our professional cleaners are dedicated to making life easier.
100% Guarantee
Professionals
Fixed Pricing
Fully Insured
Eco-Friendly
Custom Service
Testimonial
Don't take ours, take their words
The team did a very thorough cleaning of the unit. They were shown on time and performed very professional cleaning service, attention for details, hardworking and focused. They replied me promptly and all the communications before and after the service were very pleasant. Definitely will use them again! Highly recommended! "

Everything was extremely well cleaned and the house looked pristineA job well done

The team at Absolutely Amazing Cleaning were fantastic.We used them for an end of lease clean on a 5-bed share house we had been renting for 5 years, with numerous different housemates over the years. Their job was made harder by the fact the movers were arriving on the same morning and were in the way, AND some of the housemates were staying in the house, so the cleaners needed to clean around them and their stuff. The housemates were around to help move items of furniture out of the way but still, the cleaners had to empty all the cupboards, drawers, the fridge/freezer etc. before they were able to clean. They did all of this without complaint and to an exceptionally high standard. They removed light fittings to clean inside, even washed metal drawer units in the bath. Everything was spotless and the landlady was so happy with the result that she is likely to use them herself. I was also reassured that they sent someone round to see the house in order to quote. This meant I could explain about the difficulties they would encounter with the housemates being around on the day, and make sure they knew exactly what they would be faced with. I was then confident that their fixed price quote would cover emptying the drawers etc., and working around people / moving furniture.I would 100% recommend Absolutely Amazing Cleaning to anyone (and have done so already), and just wish we had been able to make use of the sparkling house after the clean, rather than having moved out!A big thank you to Oscar and the Team.

Absolutely Amazing Cleaning team is very professional and efficient.I asked for a quote and Oscar was very prompt in providing to me the quotewith the scope of cleaning that i have requested . 3 ladies turned up punctually yesterday for the 1 st clean. I am happy with their service . They were friendly and accommodating. Highly recommend this business if you are looking for someone to clean your home

This company helped me for the first time yesterday with an exit clean for an apartment. They arrived very promptly, were very pleasant, friendly & co-operative. They worked hard & finished everything on my 'wish list' to an excellent standard, within the time frame I had allotted. The price was very reasonable & I shall be using them in future to clean my own apartment on a regular basis. What more can I say? Highly recommended - Absolutely Amazing Cleaning!🌟🌟🌟🌟🌟🌟

We have had a great experience using Absolutely Amazing Cleaning. Specifically Kiko and Ella are just brilliant. They are incredibly lovely, fast and great attention to detail. Every time they always add some extra spring cleaning in too. 10/10!
Hire the Best Cleaners in Sydney!
We are trusted by over 1,000 home owners across the city.
Get a FREE Quote